Basement Floor Productions is one of the most reputable and experienced music companies in the Baltimore, Maryland area, serving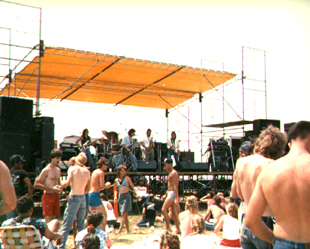 recording artists up and down the east coast. We provide a full line of music services including sound system installation and equipment rental.
Recording Studio Our state-of –the-art recording studio is operated by musicians, for musicians. We can mix and master your home recordings, record your live performance, do final mixing, and much, much more to bring the best out of you.
Record Producer Record producer Tim Miskimon has produced his own bands, as well as regional artists from New York to Florida. He's produced everything from demos up to fully produced albums, as well as TV commercials, radio commercials and more.
Professional Songwriter Tim is also a professional songwriter and ASCAP member. He's been a songwriter in various capacities for 45 years, including songs from various genres, jingles, sports themes, etc.
Sound System Installations We provide sound system installation in a variety of locations throughout the mid-Atlantic, including schools, churches, stadium venues, clubs, conference halls, you name it.
Sound & Light Rentals We have a full line of sound system rental and lighting rental services for your needs, either at a live concert, community festival, corporate event, political rally or other event where you need a professional sound system and professional lighting.
Call Basement Floor Productions today at 410-477-4940 to get the conversation started.