Our professional recording studio is conveniently located in Baltimore, Maryland, with easy access to points up and down the east coast. Basement Floor Productions is a fully professional, multi-faceted facility specializing in record production, professional sound installations, and live sound reinforcements.
Our state-of –the-art recording studio is operated by musicians, for musicians. We can mix and master your home recordings, record your live performance, do final mixing, and much, much more to bring the best out of you.
Take a listen to the audio quality of the recordings by the various artists on our Local Artists page. Even if you don't prefer the style of music you must agree that the recording quality is second to none. Doesn't your next project deserve to have that type of detail?
Let Basement Floor Productions record/produce your next CD project!
RECORD YOUR MUSIC AT HOME?
Let us mix and master your recordings – we can bring your home recordings to life – call us to discuss pricing and options – 410-477-4940.
Music production
Our Baltimore recording studio personnel are experienced in many song formats such as Rock, Blues, Modern Rock, Country, R&B, Reggae, Gospel, Opera, and New Age. We are versatile in offering a variety of:
Musicians for your project
Producers
Musical arrangers
Songwriters
Jingle writing and creation
Live Recordings
We can come to you to record your next event in mono, stereo, or multi-track. Formats include DSD, ADAT, HARD DISK, MINI DISK, or ANALOG 2 or 4 track. We can record your recitals, live club or concert hall performance.
Final Mixing
Mix down to, hard disk at all resolutions up to 24/192, DSD, CD-R, DAT, Otari & Nagra 2-track analog, Sony mini disk.
CD mastering
Editing
MP3 prep for the internet
CD copies
Cassette copies
ANALOG TAPE BAKING & RESTORATION.
We can convert analog tapes (2 inch, 1/2 inch, 1/4, cassette) to most digital formats including DSD.
We can convert digital audio to just about any other digital format.
We can also convert your record collection to CD.
DAT tape to CD.
Studio Setup
We use a mixture of vintage & modern recording studio equipment.
120 track digital hard disk recording using the latest version of SAW Studio with all available plug-ins.
Up to 24 bit/96KHZ resolutions using Apogee & Frontier Design converters.
Other Audio software includes, Cakewalk Pro, Sonar, Sound Forge, CD Architect, Acid Foundry, Antaries, Melodyne, Universal Audio, etc… all Pro Tools compatible.
VSTi software synths include, Garritan Strings & Brass, B4 organ, Ivory 1.5 grand pianos, M-TronMellotron, Mini Moog, BFD Drums and more…
16 track analog recording on a vintage, well maintained 3M
M-79 2 inch recorder (15 or 30ips).
Basement Floor Productions is one of the most reputable and experienced music companies in the Baltimore, Maryland area, serving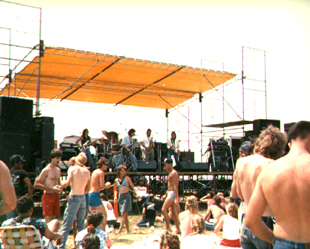 recording artists up and down the east coast. We provide a full line of music services including sound system installation and equipment rental.
Record Producer Record producer Tim Miskimon has produced his own bands, as well as regional artists from New York to Florida. He's produced everything from demos up to fully produced albums, as well as TV commercials, radio commercials and more.
Professional Songwriter Tim is also a professional songwriter and ASCAP member. He's been a songwriter in various capacities for 45 years, including songs from various genres, jingles, sports themes, etc.
Call Basement Floor Productions today at 410-477-4940 to get the conversation started.
Call Basement Floor Productions today at 410-477-4940 to set up a tour of our recording studios, and learn more about what we do.